Obama hails Iran nuclear deal, prisoner swap and 'strong American diplomacy'
Comments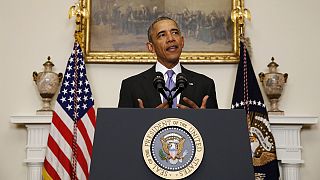 President Obama on Sunday hailed the implementation of the nuclear deal with Iran and the release of US prisoners, saying: "These things are a reminder of what we can achieve when we lead with strength and with wisdom".
His remarks were an implicit rebuke to Republicans, who have criticised the president for his engagement with a country that has long been an enemy of the United States.
Speaking at the White House, Obama said that world powers had cut off every path Tehran had to a nuclear bomb and that the outcome of the negotiations shows "what's possible through strong American diplomacy".
"Yesterday marked a milestone in preventing Iran from obtaining a nuclear weapon. Iran has now fulfilled key commitments under the nuclear deal and perhaps most important of all we have achieved this historic progress through diplomacy, without resorting to another war in the Middle East," Obama said.
"We have now cut off every single path that Iran could have used to build a bomb." —@POTUS#IranDealpic.twitter.com/20phd9FgoN

— The White House (@WhiteHouse) 17 Janvier 2016
The president said the United States still had significant differences with Iran and would continue to enforce sanctions against its ballistic missile programme.
But he was hopeful the outcome of the nuclear talks signalled an opportunity for Iran to work more cooperatively with the rest of the world.
On the prisoner-swap, Obama drew a clear link with the success of the nuclear talks.
"On the sidelines of the nuclear negotiations, our diplomats at the highest level including Secretary Kerry used every meeting to push Iran to release our Americans. I did so myself in my conversation with President Rouhani," he said.
"Several Americans, unjustly detained by Iran, are finally coming home."