Iran expects sanctions to be lifted today under nuclear deal
Comments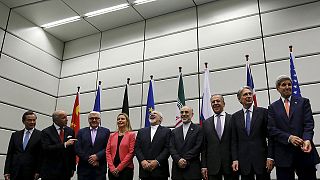 Iran is expecting international sanctions to be lifted on Saturday, with an announcement by the UN nuclear agency that Tehran has complied with a deal to scale back its nuclear programme.
Speaking to reporters in Vienna where he is meeting US Secretary of State John Kerry and EU foreign policy chief Federica Mogherini on what has been dubbed "Implementation day", Iranian Foreign Minister Mohammad Javad Zarif said:
"We expect to have the 'implementation day' today. I believe it is not just an important day for economic activity in Iran…But more importantly, it is extremely important for diplomacy. Today is the day when we prove to the world that threats, sanctions, intimidation, pressure don't work.''
.@FedericaMog in Vienna to work on implementation of Iran nuclear deal https://t.co/rzFPa2KF0c#IranDealpic.twitter.com/IHtmfQO0fj

— EU External Action (@eu_eeas) 16 Janvier 2016
Under last July's accord with six world powers, Iran has agreed to forego enrichment of uranium, which the West feared could be used to make an atomic bomb. Tehran has always insisted that its nuclear ambitions are peaceful.
'Implementation day' of the nuclear deal marks the biggest re-entry of a former pariah state onto the global economic stage since the end of the Cold War, and a turning point in the hostility between Iran and the United States that has shaped the Middle East since 1979.
It is a defining initiative for both US President Barack Obama and Iran's President Hassan Rouhani, both of whom faced strong opposition from hardliners at home in countries that have called each other "Great Satan" and part of the "axis of evil".