Indonesia beefs up police presence after Jakarta blasts
Comments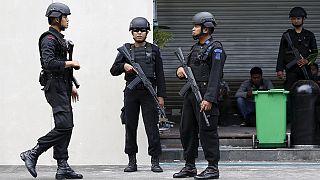 The president of Indonesia Joko Widodo has ordered more police at hotels, airports, shopping centres across the country after Thursday's (January 14) attacks in the capital Jakarta.
Fighters from the group calling itself Islamic State (ISIL)said they were responsible.
Seven people were killed in multiple blasts including five of the attackers.
Indonesia has seen attacks by Islamist militants before, but analysts say a coordinated assault by a team of suicide bombers and gunmen is unprecedented.
Police confirmed that ISIL was responsible and named an Indonesian militant, Bahrun Naim, as the ringleader.
Police say the five fighters were lightly armed with just two pistols and about a dozen low-yield homemade bombs.