ISIL claim responsibility for deadly Jakarta gun and bomb attacks
Comments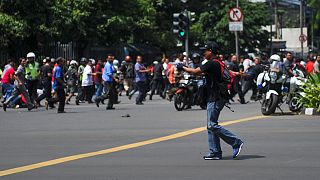 A series of gun and bomb attacks has caused terror in the centre of the Indonesian capital Jakarta, leaving several people dead – including a number of the attackers themselves.
The authorities say the situation has now been brought under control. In mid-afternoon local time Indonesia's security chief said five militants had been killed, including one foreigner.
ISIL has claimed responsibility for the attack via an associated news agency, saying it was "targeting foreign nationals and security forces." The group had previously threatened to put the country "in the spotlight."
The number of victims is difficult to confirm.
There were at least six explosions. Amid reports that some attackers were still at large, security forces surrounded a building where terrorists were said to have been holed up.
At midday police said they had shot dead three terrorists and captured four. As well as three suspected suicide bombers, they added that three policemen and three civilians were also killed.
The Netherlands has said a Dutch man was seriously hurt.
The attacks happened in an area of the capital that's home to several western organisations and hotels. One of the blasts was close to the United Nations headquarters; there was another explosion outside a Starbucks cafe, whose windows were blown out.
Starbucks says one customer was injured but that its staff are safe. The chain has closed its Jakarta stores until further notice.
Indonesia has had some success in countering radical groups – police claim to have foiled a New Year plot – but the country's brand of moderate, secular Islam makes it a target for fanatics bent on exterminating their opponents.
Indonesia's President Joko Widodo has condemned the attacks and appealed for calm.
Indonesia is the world's most populous Muslim country although public life is largely secular. Nevertheless, scores of Indonesians are known to have travelled to Iraq and Syria to join ISIL.
Earlier, the head of the Indonesian national intelligence agency told Reuters there was no evidence so far to link ISIL to the attacks.
The country has seen a spate of militant attacks in the 2000s, the deadliest at a nightclub on the holiday island of Bali that killed 202 people.
The last major militant attacks in Jakarta were in July 2009, with bombs at two hotels, the JW Marriott and the Ritz Carlton.
At least one of Thursday's attacks was captured on video.
Local witnesses describe seeing several bodies in the street.
A UN worker tweeted images of one scene from the organisation's office.
The latest from office window. No view of scene. Seeing tactical teams going in, pic.twitter.com/abkxHNganC

— Jeremy Douglas (@jdouglasSEA) January 14, 2016