Lottery fever hits the US as three winners share $1.6 billion jackpot
Comments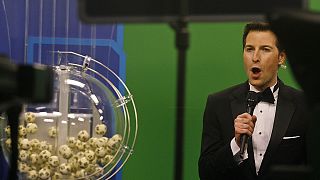 It's the world's largest potential jackpot – which has apparently attracted three winners, in the US states of Tennessee, California and Florida.
At the store in California where one known winning ticket was sold, there were scenes of pandemonium.
The shop in an eastern suburb of Los Angeles will receive a one-million dollar bonus.
Despite odds of winning outright put at one in 292 million, many billionaire hopefuls queued for tickets.
"What I'm going to do with it is share with this girl (accompanying her), pay off my mortgages and everything. Go back to school at CSULB (California State University, Long Beach) . I will be investing a lot in charity," said Donica Olsen of Hawthorne, California.
Far to the north, the huge potential prize also attracted Canadians who crossed the border into Washington state.
The lottery fever brought border traffic jams and crowded scenes in local stores.
"Lots of our relatives have come down. And just as we were coming across the border, the phone was ringing. Our friend was saying, "if you're going across the border, pick me up some Powerball."
The Powerball lottery exists in 44 American states. The enormous potential jackpot has encouraged people to place more money than usual – one man said to have spent 280 dollars in one go.
The three known lucky winners will get their hands on over 500 million dollars each.