'Suicide bomber' strikes Pakistan polio centre
Comments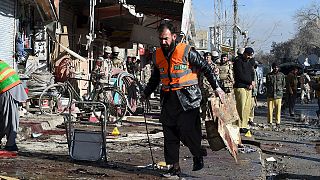 At least 15 people, including 12 police officers, are said to have died as a suspected suicide bomber struck outside a polio vaccination centre in Pakistan.
The blast in the city of Quetta in the unstable western province of Balochistan ripped through a police van which had just arrived to provide an escort for health workers.
Another 25 people were reportedly injured.
The militant group Jundullah, which has links to the Pakistani Taliban and has pledged allegiance to the so-called Islamic State, has claimed responsibility.
Islamist attacks on the anti-polio campaign had declined last year after a peak in 2014. The extremists say the vaccination programme is aimed at sterilising children and a cover for Western spies.
Pakistan and Afghanistan are the only two countries left in the world where the disease is still endemic. In Pakistan armed guards are routinely used to protect health workers, and the violence is said to have slowed the vaccination programme.
The conflict in the region is said to be complicated, with armed groups who have Islamist sympathies said to enjoy tacit support from some official quarters.