Jewish community in Marseille debates whether to hide yarmulke
Comments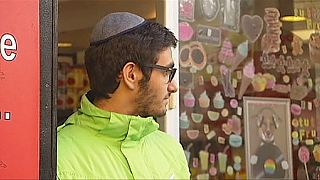 France's religious and political leaders are debating whether Jews in Marseille should stop wearing their yarmulkes in public, after a teacher was wounded there in an anti-Semitic stabbing.
The machete attack has left the community in fear once again.
"It's our responsibility to guarantee the safety of our community. It's perhaps today, facing an extraordinary situation, that we must make extraordinary decisions," said Zvi Ammar, President of the Israelite Consistory of Marseille.
Christian Estrosi, President of the Provence Alpes Cote d`Azur Region, objected: "I understand the worries, but I think that the most terrible thing is to give the enemy the impression that we're afraid. Let's not be afraid. We must not show any sign of weakness."
The Jewish community itself is divided over whether to continue wearing the yarmulke in public, as France is on high alert for extremist attacks.
"It demands courage. So if you have children, unfortunately, maybe it's best to be more discreet," said one man wearing his yarmulke at a cafe.
But one woman disagreed: "We're not allowed to hide. We're Jewish and proud to be Jewish. Why hide?".
"I've always been used to wearing it and I will keep wearing it. I'm not more afraid today than ten or fifteen years ago," another man said.
A 15-year-old Turk of Kurdish origin is suspected of Monday's knife attack against a Jewish teacher. He has been arrested and charged with attempted murder on religious and terrorist grounds.