Ebola hits affected countries in the pockets
Comments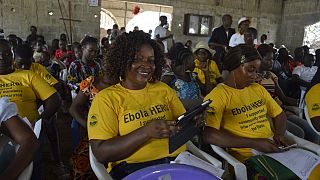 The gold prospecter Dauda Kamanda has never been a rich man.
However, he managed to live off the profit he made from selling his nuggets to dealers who then exported them across Africa to the Middle East.
That was until the Ebola epidemic.
In 2014 his Senegalese clients from the province of Koinadugu in Northern Sierra Leone and Lebanon fled the spread of the virus one by one.
His monthly income of 500 dollars (460 euros), which he needed to support his family of four children, evaporated.
"After the buyers left, I had to go and work as a baggage handler for a bus station for people going to the capital, Freetown," he said.
Counting the cost
On the eve of the official declaration of the end of the worst epidemic in the history of the disease, the three most-affectec countries in West Africa are counting the cost to their economies.
The World Bank puts the loss to Gross Domestic Product (GDP) of all three countries at 2.2 billion euros; 1.4 billion for Sierra Leone, 535 million for Guinea and 240 million for Liberia.
They were promised more than five billion dollars in aid in 2015 to compensate for the losses caused by the epidemic. The GDP of Sierra Leone, in particular, is down by 20%.
Primary and resource industries hit hard
"The sectors that characteristically lead growth, like agriculture, mines, etc, have been particularly disrupted." said the Sierra Leone Economy Minister Kaifala Marah.
The economic impact has been worsened by a big drop in the global price of iron ore, Sierra Leone's main export. The mining sector has collapsed and investors have fled the country.
7,500 jobs were lost when African Minerals and London Mining closed two mines.
A World Bank report in June stated the number of jobs was back to its pre-crisis levels, but conditions like contract duration and salaries have deteriorated.
In neighbouring Guinea, where the impact has been felt primarily on mining investment, the closure of several air and road links has had an adverse effect on business.
"Before the Ebola crisis, I often went to Dubai or Bangkok to buy gold jewellery," said buyer Fatou Baldé. "My shop was always busy, I had a lot of clients, mainly
retailers."
Basic commodities also suffered
The import and export of basic commodities like rice, milk, flour and sugar have also suffered.
"Under normal circumstances, I trade between 35,000 and 40,000 tonnes a month," says rice importer Elhadj Diallo. "But during Ebola, I traded between 10 and 15,000. Customers were often afraid to send their boats to Conakry."
Diallo says he sent merchandise via Senegal and Gambia as Guinea became too difficult."
In Liberia, Amadou Diallo, who imports goods from Guinea, says he has had to begin again from zero because of Ebola.
"It was hellish," he says. "We could not leave the country to earn anything so we had to make do with the money we had."
London's International Growth Centre estimates 12% of businesses in Liberia had gone to the wall by summer 2014.
Optimism remains, figures encouraging
However, both the people and governments of the three countries affected are optimistic about their capacity to bounce back after the impact of the epidemic.
Pres Ellen Johnson Sirleaf,Liberia, has named UN-Ambassador Marjon Kamara Foreign Minister.https://t.co/e5gyPW9fvnpic.twitter.com/m8pN2AozF0

— GuideToWomenLeaders (@guide2womenldrs) January 12, 2016
"We can and we must get back to the level of progress we were at before the shock of Ebola," Liberian President Ellen Johnson Sirleaf told a meeting of the UN in July, accompanied by her counterpart from Guinea, Alpha Condé and Ernest Bai Koroma from Sierra Leone.
Sub-Saharan Africa to see modest growth in 2016: https://t.co/saAbBL9kBA

— Dianna Games (@DiannaGames) January 7, 2016
Their confidence will be reinforced by the findings of Dianna Games of the South African consultancy, "Africa at work".
She predicts there will be "modest growth" across West Africa is estimated at
7% for 2016, while "the three most-affected countries account for less than 3% of regional GDP".
From the Republic of the Congo, rolling multi-platform news channel Africanews sets out to serve the continent's more than 50 countries in English and French, later adding more languages. The African and global news and business stories are told from an African perspective.
Find out more on their website
The #UN estimates that about 9% of the population in the DRC are in need of humanitarian assistance. https://t.co/nARRJXwmKO

— africanews (@africanews) January 12, 2016
Hundreds of Congolese peacekeepers to withdraw from #CAR after failing internal assessment, UN spokesperson says. "The contingent will leave and not be replaced." http://ow.ly/WTFYm

Posted by Africanews on�Monday, January 11, 2016