Saudia Arabia's tensions with Iran will not affect Syria peace talks
Comments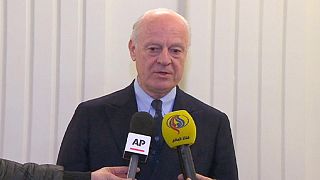 The United Nations special envoy to Syria, Staffan de Mistura, says he has been assured by Iran and Saudi Arabia that their recent tensions will not undermine the approaching Syrian peace talks in Geneva.
He met with Iranian officials in Tehran on Sunday, including the Foreign Minister, Mohammad Javad Zarif, to discuss the five year war in Syria.
The UN is convening the warring parties in Geneva later this month to try to bring the conflict to an end.
"In Riyadh I got that type of assurance and that reassures me and the Secretary-General," de Mistura told reporters. "In Tehran I got the same assurance, that the tensions, which are unfortunately ongoing, are not going to be affecting neither the Vienna momentum nor the Geneva talks."
De Mistura is engaged in a round of shuttle diplomacy in the region in preparation for the talks, part of a plan to end a war that has so far killed a 250,000 people and created countless refugees.