Arab League denounces Iranian 'interference' in internal affairs
Comments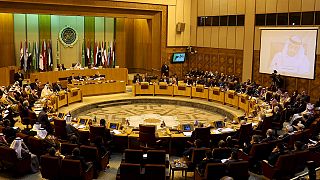 The Arab League has denounced attacks on Saudi diplomatic missions in Iran. At a meeting in Cairo on Sunday, foreign ministers from the 22-member-state body advised against so-called interference in the internal affairs of its nations. It warned Iran could face wider opposition in the future.
There is no intention to see the current tensions affect the current engagement in the Vienna momentum.
Nabil Elaraby, Secretary General of Arab League, said:
"We put the responsibility for this attack on Iran, because of its violation of international law and the Geneva conventions relating to the protection of diplomatic bases. We place responsibility on Iran for any dangerous repercussions of this attack."
Boiling point
Tensions between Saudia Arabia, the Middle East's main Sunni Muslim state, and Shi'ite Muslim Iran, reached boiling point when Riyadh executed Shi'ite cleric Nimr al-Nimr on January 2, 2016.
As news of the execution broke, angry protesters marched on the Saudi embassy in Tehran. Riyadh responded by cutting diplomatic relations and stopping trade and flights to and from Iran.
Euronews correspondent, Mohammed Shaikhibrahim, spoke to political analyst Alsayed Makhlof in Cairo. He predicted that not all Arab nations will follow Riyadh's lead.
"I don't think this crisis will lead to a complete breakdown in relationships with some Arab countries. Among the Arab states, political attitudes over how to deal with Iranian interventions in the Arab world are different and varied," he said.
A knock-on effect for peace talks on Syria?
Iran's Foreign Minister Mohammad Javad Zarif claims Saudi Arabia is using the row to hurt peace talks on Syria. Riyadh denies this. Foreign Minister Adel al-Jubeir reiterated Saudi "support for the Syrian opposition and for efforts to find a peaceful solution" in the country.
The UN weighs in
United Nations envoy, Staffan de Mistura, held talks in both Saudi Arabia and Iran in the first week of January. He, too, said the diplomatic crisis would not harm peace efforts in Syria.
"The Saudi foreign minister assured me that there would be no impact from their point of view… In Iran I got the same assurance," he said.
De Mistura admitted the breakdown in relations between Iran and Saudi Arabia had been at the forefront of his mind ahead of his meetings in the two countries. However, shortly after his meeting with Zarif, he said the Geneva talks on Syria, scheduled for January 25 can still "start in the right atmosphere."
"I can refer to you from minister Zarif that there is no intention to see the current tensions affect the current engagement in the Vienna momentum, of which they (Iran) are very much part," he said.
Euronews' Mohammed Shaikhibrahim added:
"It's not the first time relations between Tehran and Riyadh have been strained. But the worry this time is that sectarian alliances may add fuel to the fire of war and conflicts which already exist in some Arab countries."