El Niño-strengthened storm brings flash flooding to drought-stricken California
Comments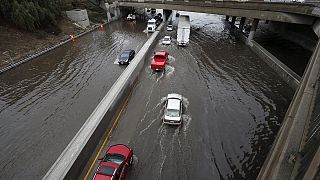 For the second day in a row, drivers in San Diego have faced rising flood waters as another El Niño-strengthened storm brought heavy rains.
Several abandoned cars were seen almost entirely submerged at one flooded intersection.
Flash flood warnings are to remain in effect with the National Weather Service warning of more bad weather. However over the next few months the rain may help ease California's four-year drought.
The El Niño phenomenon, characterized by a warming of the Pacific Ocean, has in the past brought rain to California. It's current record drought has cost the state's agricultural economy $1.84 billion, (1.5bn euro) according to the University of California.