Saudi Arabia scuppers US Middle East policy by execution of cleric
Comments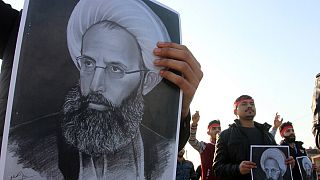 Kawtar Wakil:"Here to discuss the impact of the diplomatic tensions between Saudi Arabia and Iran is Mr Firas Abu Ali from IHS in London, a risk analyst on Middle Eastern affairs. Welcome to euronews.

Saudi Arabia 'torpedoes' American Middle East policy with execution of Shia cleric https://t.co/3cBIEQWh3lpic.twitter.com/qVhEIJ6rVF

— ThinkProgress (@thinkprogress) January 6, 2016
What is the motive behind the decision by a number of Gulf states to reduce diplomatic relations with Iran?"
Mr Firas Abu Ali:''For Saudi Arabia this is an opportunity to find new ways to resist pressure from the US to find a solution to the conflicts in Syria and Yemen.
This means the current crisis hands them an excuse to delay negotiations to find a political solution in Syria.
Also it would it not be in the interests of Saudi Arabia, if you look at the balance of power that exists on the ground today. This way they show solidarity with Saudi Arabia, despite the fact that in reality they have chosen to maintain ties with Iran, despite the crisis.''

Iran: "Saudi Arabia's wrong decision will have an effect" on Syria talks https://t.co/BAAPtPGoshpic.twitter.com/ILT19IXfjy

— Business Insider (@businessinsider) January 6, 2016
Kawtar Wakil, euronews: ''The intractable Iranian position will inflame other tensions after the threats made by the Supreme Leader Khamenei. "
Mr Firas Abu Ali: "The reality is that both Saudi Arabia and Iran have taken hard-line positions linked to fundamentalist parties. I don't think the government of Rohani wants an end to diplomatic efforts in Syria and Yemen.
Still, for many years Iran has supported domestic extremists, which has led to a situation in which Iran is unable to prevent attacks and take action against militants in the country.
The same scenario applies to the Saudis, which has worked for years to export Wahhabism at the expense of the Shi'ites.

A 1,400-yr-old disagreement is the root cause of the current Middle East crisis https://t.co/MIJXC0es9Ppic.twitter.com/FoQccUS45R

— HuffPost UK (@HuffPostUK) January 5, 2016
Both sides, Iran and Saudi Arabia, are unable to make the concessions necessary to reach the compromise the US is trying to impose."
Kawtar Wakil, euronews: "What is the direct economic impact on the region, especially for Iran and Saudi Arabia? Including the cancellation of flights to and from Iran?"
Mr Firas Abu Ali:"I don't think that the economic impact will be significant, because trade between the two countries is limited. However trade is strong between Iran and the UAE and between Iran and the smaller Gulf States. These other countries have reduced their diplomatic presence, but without breaking commercial ties or diplomatic relations."
Kawtar Wakil, euronews: "What is the current situation between Sunnis and Shi'tes in the region? Could this lead to a military escalation between the two countries?''
Mr Firas Abu Ali:"I think we are a long way from direct military conflict between Iran and Saudi Arabia, and if it happens it will not be in 2016.
Of course it could happen in the future and it would be extremely dangerous if it did. Arab diplomacy is working very hard to avoid a deterioration. Therefore we will not see conflict in 2016."

Escalating Iran-Saudi Arabia cold war unlikely to go hot https://t.co/4q4vnek4xEpic.twitter.com/fiOZAAfm8K

— Haaretz.com (@haaretzcom) January 5, 2016
Kawtar Wakil, euronews:''M. Firas Abi Ali thank you for your insight."