Pope Francis holds Epiphany mass, Eastern Christians prepare for Christmas
Comments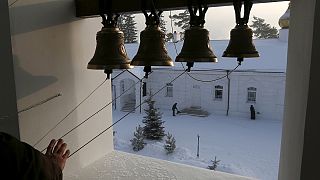 The Vatican has held the annual Epiphany mass, marking the official end of the Christmas season.
Pope Francis spoke in his homily of restless hearts seeking sure solutions to life's questions but not finding them.
He extended his greeting to Eastern Christians many of whom celebrate Christmas after Epiphany, on January 7.
The occasion marks the Gospel account of the Three Kings who followed a star to find the baby Jesus in Bethlehem.
There, in line with tradition leaders of the various Eastern churches came to kick off Christmas Eve celebrations.
They included representatives of the ancient Assyrian Church, and the Armenian and Coptic Church.
The Greek Orthodox Patriarch of Jerusalem, Theophilos III, attended – although he was boycotted by some over internal disputes.
Issuing his Christmas message in Moscow, the head of the Russian Orthodox Church prayed for peace in Ukraine.
Patriarch Kirill said what he called the "fratricidal conflict" should never divide the Church's children by sowing enmity between people's hearts.
Night services will be followed by others on Christmas morning in almost 30,000 affiliated churches worldwide.