UN condemns attack on Saudi embassy in Iran
Comments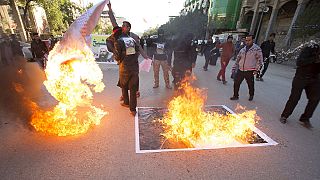 The UN Security Council has condemned the attack on Saudi Arabia's embassy in Iran by protesters angry at the Sunni kingdom's execution of a prominent Shi'ite cleric.
It made no reference to Sheikh Nimr al-Nimr but UN chief Ban Ki-moon, who is sending an envoy to both countries, has restated his opposition to capital punishment and disappointment at the cleric being put to death.
"This is obviously something the Secretary-General is following extremely closely," Ban's spokesman Stephane Dujarric told reporters at UN headquarters in New York.
"And I think he would call for all leaders in the region, whether political or religious leaders, to avoid adding fuel to the fire by making any statements that would increase tensions between different religious groups in the region."
.@UN chief calls on #Iran, #SaudiArabia to avoid exacerbating tensions after executions https://t.co/lw42WN0Rawpic.twitter.com/US9KAZZL4x

— UN News Centre (@UN_News_Centre) 4 Janvier 2016
Riyadh has cut all ties with Tehran, saying they would only be restored if Iran stopped meddling in other nations' affairs. It has defended the cleric's execution on terror-charges.
"The execution should not raise sectarian tensions," insisted Abdallah al-Mouallimi, Saudi Arabia's UN Ambassador.
"Mr al-Nimr was a Saudi citizen. He was given the same rights and privileges, as an accused defendant, that were given to the rest of the Saudi citizens – the others who were on trial," he said.
Protesters though continue to denounce the cleric's death.
Some of those marching in the Iraqi cities of Basra and Najaf on Monday called for the Saudi embassy in Baghdad to be closed and Saudi products to be boycotted.
On the other side of the divide, Riyadh's allies continue to follow its lead in taking diplomatic action against Iran with Kuwait now adding its name to the list – by recalling its ambassador.