France's deadly day of hostage-takers
Comments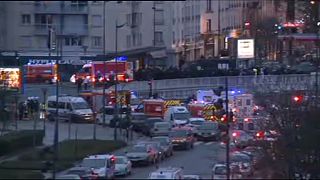 Wednesday, at around 11:30 in Paris, number 10 rue Nicolas-Appert, two hooded men execute a wounded policeman on the ground.
They have just murdered 11 other people — eight of them Charlie Hebdo editorial staff, a single police bodyguard, one visitor and the maintenance man.
The pair escape while exchanging fire with police. The car they use is found at 14:30. One of their identity cards is in it. They are identified as brothers: Chérif and Saïd Kouachi, 32 and 34, born in Paris of Algerian parents. The elder of the two was convicted of terrorist-related activity in 2008 and spent time in prison.
France's national security alert system Vigipirate is at maximum alert. Anti-terrorist squads investigate in Strasbourg, Rheims and Charleville-Mezières near the border with Belgium. Police, gendarmerie and soldiers — some 80,000 in total — are deployed in the hunt for the suspects.
Thursday, a policewoman is fatally wounded while at the scene of a minor traffic accident in Montrouge just outside the first Paris ringroad. Her attacker, a single gunman, flees. She dies soon afterward.
Shortly before noon, the Kouachi brothers are recognised in the Picardy region some 80 km northeast of the capital when a petrol station manager they hold up reports them. They are not masked, and are armed with Kalashnikov assault rifles and a grenade-launcher.
The French National Police and French Armed Forces special operations units known as RAID and GIGN team up for the first time in Picardy. They comb through an extensive mostly rural area, with helicopters.
The next day, 20km from Paris Charles De Gaulle International Airport, the suspects are surrounded in a printworks on an industrial estate in Dammartin-en-Goële, one other person hiding inside with them. In the final minutes of daylight: gunfire, smoke, a series of explosions… the brothers come out firing and are killed.
Since 13:37, another man has taken hostages at a Kosher minimarket in Porte de Vincennes, eastern Paris. He is identified as the Montrouge policewoman's killer.
Amédy Coulibaly, who met one of the Kouach's while in prison for armed robbery, later converted to radical Islam, is holding four people.
At almost the same instant as the order to take the brothers, forces move on the minimart. Word comes that the gunman and a number of hostages have been killed.