ISIL continues assault on Libyan oil ports
Comments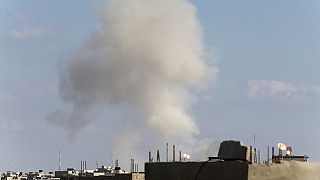 There has been a second day of fighting at Libya's two main oil storage ports, with ISIL fighters from Sirte claiming they have entered El Sider and taken control.
A storage tank was set on fire with a long-range rocket, and at least two guards were killed. The tank was hit just as firefighters had brought another tank fire in nearby Ras Lanuf under control.
On Monday attacks on the sister port of Ras Lanuf left seven guards dead, and totally destroyed one storage tank containing 420,000 barrels' worth
of oil. Fires are still burning at both ports, but firefighters have been unable to access El Sider.
ISIL has been growing in strength in Libya, alarming the international community, and this summer took the major city of Sirte, allowing them to extend operations.