Alpine Skiing: Loeseth ends Norway's 16-year wait for slalom winner
Comments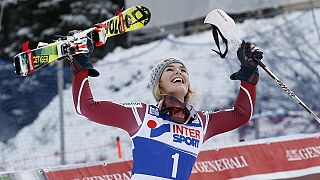 Nina Loeseth experienced the dizzy heights at the top of a World Cup podium for the first time in her career on Tuesday after winning a slalom race at the Italian resort of Santa Caterina.
The 26-year posted the fasted times in each of the heats to finish with a combined winning time of 1 minute, 57.65 seconds.
Her maiden world cup victory ended Norway's 16-year wait for a slalom winner – the last was Trine Bakke, who won a slalom race in Maribor, Slovenia, on Jan. 6, 2000.
Sarka Strachova of the Czech Republic crossed over in second place.
The 2007 world slalom champion was 1.12 seconds off the pace as her hunt a first World Cup win in over six years continues.
Veronika Velez Zuzulova of Slovakia completed the top three while Frida Hansdotter's podium streak ended as she had to settle for fifth place.
The Swede had made the podium in all four previous slaloms this season.
Despite the result she did retain the lead in the discipline standings 94 points clear of Strachova.