Snap election on the cards in Catalonia
Comments
By
Euronews
with
Reuters, AFP, APTN, AP, EFE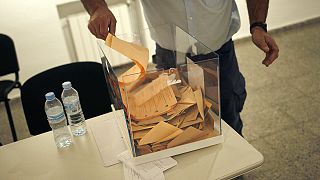 CUP

will not support Mas
Snap election likely to be in March
Echoes the scene playing out in Madrid
Recently-elected politicians in Catalonia have six days to save their coalition.
The Catalan far-left party CUP has said it will not support acting regional head Artur Mas for another term as leader.
https://t.co/vYmnRnSThG : "Leftists force new Catalonia election" https://t.co/ROt4qT6PJc

— Akhil Sharmaa (@iamakhilsharmaa) January 3, 2016
The announcement triggers a fresh round of local elections and will weaken the independence movement seeking a split from Spain.
#Catalonia's CUP decides to abstain in the investiture vote of #ArturMas (vote likely not going to take place) https://t.co/TJczDO5LyU

— Janne Riitakorpi (@JanneRiitakorpi) January 3, 2016
CUP is a fringe, anti-capitalist party which rejects Catalan membership of NATO and the EU.
It has held the balance of power in talks to form a regional government since elections last September awarded a majority to pro-independence parties.
Antonio Baños se plantea dimitir tras el rechazo de la CUP a investir a Artur Mas https://t.co/qIiG5hri7hpic.twitter.com/B0zGclKKSa

— 20minutos.es (@20m) January 3, 2016
However, CUP has repeatedly rejected the candidature of Mas, who heads the centre-right, business-friendly party Junts pel Sí.
The political future of Catalan president Artur Mas is hanging by a thread https://t.co/QkUgxYba2lpic.twitter.com/VmQQO7rPV4

— Financial Times (@FT) December 28, 2015
Mas heads the separatist "Together for Yes" alliance that won 62 seats in the 135-seat regional parliament last September. It needed a further ten to secure a workable majority.
#ÚLTIMAHORA: Baños se plantea dimitir tras el rechazo de la #CUP a investir a Mas https://t.co/P16n0dNAxj

— La Vanguardia (@LaVanguardia) January 3, 2016
After three months of debates, CUP members finally decided on Sunday afternoon not to support Mas as coalition leader.
Sergi Saladié: "Mas va dir que no seria obstacle, té una setmana per demostrar-ho!" #PerLaRepúblicapic.twitter.com/2y8CIx11gD

—

CUP

Sant Martí (@CUPSantMarti) January 3, 2016
Speaking after the meeting, a party spokesman said CUP might reconsider its position if another candidate were to be nominated.
However, the Together for Yes alliance says Mas is a non-negotiable figure.
Local mirrors national
The drawn-out process of forming a government in Catalonia echoes the political stalemate gripping Spain at national level.
No party in Madrid was handed a clear mandate to lead at general elections two weeks ago.
#oldham#stockport Spanish don't want election re-run – poll: MADRID (Reuters) – Less than … https://t.co/KrrBVr5kmD#tameside#salford

— No Labour In Politix (@Labour_is_PIE) December 24, 2015
The prospect of another poll in March plunges Spain into more uncertainty.
The make-up of both the regional and national governments set to negotiate the future of the wealthy northeastern region remain unclear.
At the national level, parties are in talks to form a coalition government in Madrid.
Spanish voters, disillusioned by recession and high-level corruption cases, turned away from establishment political parties and voted for newcomers.
Spain PM Mariano Rajoy pushing to form coalition government after divided vote – AP</a> <a href="https://t.co/fUW3vbgSsY">https://t.co/fUW3vbgSsY</a></p>&mdash; Breaking Politics (breakingpol) December 29, 2015
The future of Catalonia is at the centre of these talks.
Disagreement over whether to allow the region a referendum on independence is a major sticking point.
Newcomer Podemos supports a vote while the Socialists do not.