Relief for skiiers as snow finally starts falling in French Alps
Comments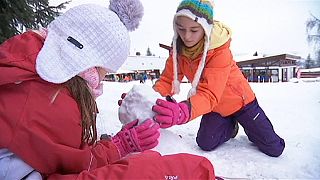 Snow has finally started falling in the French Alps, much to the relief of the travel industry and skiiers alike.
It is late this season because of weeks of unseasonably warm weather.
The #snow has started in the Alps! Up to 30cm possible by the end of today and loads more to come ❄️❄️ pic.twitter.com/NAFuuSTBK5

— Ski Club GB (@TheSkiClub) January 2, 2016
For some tourists, it has come to late, while others are making the most of it.
"We've been here for a week and it's the first day there's snow. So we'll enjoy it," said one woman in the French resort of Les Arcs.
Another added: "We're sad because it's snowing when we leave, but that's life."
"It's been a week without snow, so we'll take advantage of the last day," a man said.
The white stuff has also started falling in Italy, in the Aosta Valley. And more snow is predicted to arrive over the coming days.
Conditions are also improving in Austria.
Thousands of people are employed in Europe's ski industry and the snow's late appearance has hurt some businesses. They will now be looking to make up for the rocky start.