Indian opposition party protests militant attack on air base
Comments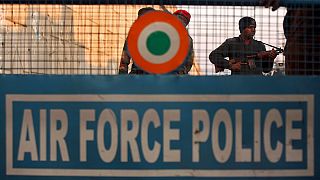 Members of India's opposition Congress party have been protesting over an attack on an air force base near the Pakistan border.
Five gunmen and two guards are reported to have been killed when militants struck in Punjab state.
It came days after India and Pakistan launched a peace initiative.
"Prime Minister Modi has just returned from Pakistan after offering a hand of friendship to Pakistan, but this is what we get in return," said Ashwani Kumar, a Congress Party spokesman.
It is unclear who attacked the air base, but there is suspicion that Kashmiri militants, based in Pakistan, might be involved.
"I congratulate the security forces of our country, who ruined the enemies' plan. They didn't let them succeed," said Narendra Modi, India's Prime Minister.
Previous attempts to revive dialogue between India and Pakistan – nuclear-armed neighbours – have been derailed by similar attacks in the past.
But Islamabad has condemned this assault and experts suggest that could mean the latest peace bid may prove to be more robust.