Dakar racer ploughs into spectators injuring ten
Comments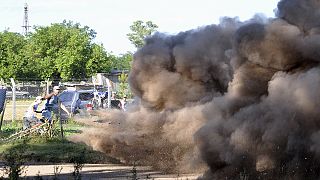 A car racing in the Dakar Rally careered off the road and smashed into a crowd of spectators injuring ten, five of them seriously.
Boy seriously injured in Dakar Rally crash https://t.co/7XRUVNh0RTpic.twitter.com/RYZhlRGn80

— Agence France-Presse (@AFP) January 3, 2016
The mini driven by China's Guo Meiling sped off the road at the 6.6 k mark in the 11 k prologue.
At least 10 people injured after car smashed into spectators at Dakar Rally in #Argentinahttps://t.co/SdBs1kzWgzpic.twitter.com/4I46B1KDb9

— Sky News (@SkyNews) January 3, 2016
A man and his 14-year-old son were the most seriously injured and were airlifted to hospital.
The driver also received treatment, the stage was stopped and four medical helicopters were deployed to assist the injured.
The race proper was set to start on Sunday, however appalling weather in Argentina forced organisers to cancel the opening stage.
Last year, Polish motorbike rider Michal Hernik died at the end of a stage, but the last accident involving spectators at the Dakar Rally was in 2011, when one person was killed.