Thousands of Algerians gather for funeral of independence hero
Comments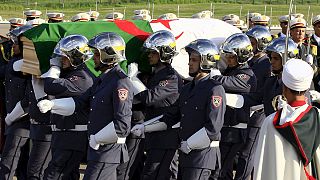 Thousands of Algerians have flooded the home village of opposition leader Hocine Ait Ahmed for his funeral.
Ahmed, one of the heroes of Algeria's war of independence against France, died in Switzerland at the age of 89.
His funeral was attended by Algerian officials, including Prime Minister Abdelmalek Sellal.
One of the founding members of the resistance to French colonial rule in the 1950s, Ahmed helped launch the independence war that eventually brought the North African country to freedom in 1962.
But he soon sought more political pluralism in opposition to the one-party rule of the National Liberation Front.
A founding leader of the resistance in 1954, Ait Ahmed was among a group of senior figures famously captured two years later when French air force jets intercepted their airplane and forced it to land.
During the war, he once organised a post office robbery to help fund the rebellion.
After independence, he broke with the new government and formed the Front of Socialist Forces (FFS) party in 1963. He called the country's new rulers undemocratic.
He was arrested but escaped jail and sought exile in Switzerland, becoming a symbol of uncompromising, principled opposition. He returned at times to Algeria and was always opposed to the military's role in politics.