Residents of Turkish town flee as government forces clash with Kurdish militants
Comments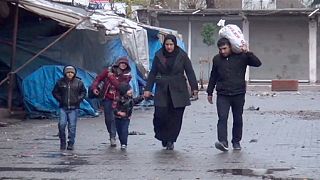 As clashes continue between government forces and Kurdish militants in the Turkish town of Cizre, some residents have decided to abandon their homes.
The area has been under curfew since mid-December, when an operation was launched to dislodge fighters linked to the Kurdistan Workers' Party, or PKK.
The army says 12 militants, two police officers and a soldier were killed in 48 hours, across Thursday and Friday.
In Cizre, one soldier was forced to leap from his flaming tank as it careered out of control into a building.
Violence has returned to Turkey's predominantly Kurdish southeast after a two-year ceasefire collapsed in July.
The PKK is designated a terrorist group by Turkey, the US and the EU.
It first took up arms in 1984 to push for greater autonomy in the southeast, and some 40,000 people have since been killed in violence.
President Tayyip Erdogan said on Thursday that there would be no let-up in the military campaign that he said had killed more than 3,000 militants this year.