Bahrain: New Year's Day march turns violent
Comments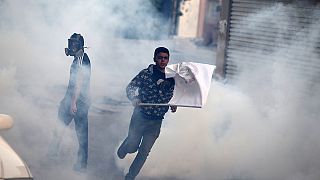 Riot police have clashed with protesters in Bahrain, as they moved in to disperse a New Year's Day march.
Officers fired tear gas and bullets in the northeast town of Sitra, while demonstrators threw stones and petrol bombs.
Those marching held flags and chanted slogans in support of the country's most active opposition network, the February 14 group.
The New Year's Day demonstration aimed to give a fresh push to a nearly five-year-old uprising against Bahrain's monarchy, which started on February 14, 2011.
The small Persian Gulf nation saw a wave of mass protests during the Arab Spring.
A strong response from Bahrain and its Arab Gulf allies quashed the uprising.
But low-level unrest has continued since then among the country's Shiite majority, demanding greater political rights from the Sunni-led monarchy.