President Barack Obama outlines moves to tighten gun control
Comments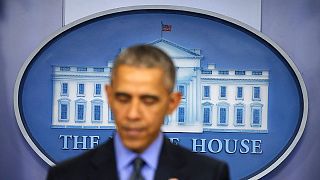 President Barack Obama enters his final year in the White House set on putting in place gun control measures.
It's reported the president will introduce a set of executive actions which do not need congressional approval. They could be unveiled next week.
"On Monday, I'll meet with our Attorney General, Loretta Lynch, to discuss our options. Because I get too many letter from parents, and teachers, and kids, to sit around and do nothing. I get letters from responsible gun owners who grieve with us every time these tragedies happen; who share my belief that the Second Amendment guarantees a right to bear arms; and who share my belief we can protect that right while keeping an irresponsible, dangerous few from inflicting harm on a massive scale," he explained.
Gun reform has become a contentious issue and the president has repeatedly been frustrated by little action from Congress in the face of the powerful gun lobby.
Statistics show that in 2015 there was on average nearly one mass shooting each day where four or more people were killed.
"The gun lobby is well organised in its defence of effortlessly available guns for anyone. The rest of us are going to have to be just as passionate and well organised in our defence of our kids. I hope you'll join me in making America safer for all our children," the president concluded.
It was the killing of 20 children at a school in Newtown Connecticut in 2012 which many people thought would prove a turning point for gun control in the US. But proposed legislation in the wake of the atrocity was not passed. Analysts believe Congress is still unlikely to act.