Storm Frank claims first victim in Scotland with more rains due on New Year's Day
Comments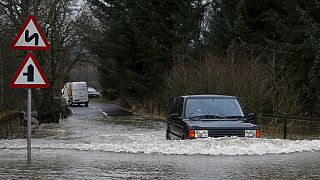 Swathes of Scotland, Northern Ireland and northern England remain on flood alert after Storm Frank wreaked havoc causing businesses to close,evacuations and power cuts.

Scotland recovering after day of weather chaos as Storm Frank sparked floods and power cuts https://t.co/azJYmX6zX0pic.twitter.com/z1I2E0IPo7

— STV News (@STVNews) December 31, 2015
Police in Scotland have confirmed they recovered the body of a Kayaker who got into difficulty on a swollen river near Inverness.
The worst of Frank appears to have passed, but the damage remains.
Gordon Andrews is the chairman of the local Newton Stewart business association and is furious with the authorities for lack of planning:
"This is obviously been happening since the last flood in 2012 when we were flooded. We made it quite clear that something needed to be done. As usual all council has done is get consultants in and spent time talking and doing everything, but actually solving the problem."
Flood-hit communities in north-west England have have been handed a reprieve after the Environment Agency removed the severe weather warnings from the area.

FLOODS LETTER: Bridge next to The Whitewater Hotel at Backbarrow needs replacing https://t.co/0h5u18LOgB#Cumbriapic.twitter.com/4Q38X934Jv

— CUMBRIA (@DailyCUMBRIA) December 20, 2015
Still flood warnings remain around the River Ouse in York a city visited by Labour leader Jeremy Corbyn:"We're faced with terrible floods, we as a society have got to invest in flood defences. Invest in river basin management and invest in our environment agency. Cuts in public expenditure are not the answer."

Quite a scrum for Mr Corbyn in York. #floodspic.twitter.com/BrAA7Oa1au

— Tom Wilkinson (@tommywilkinson) December 31, 2015
Parking on Huntington Canal, York floods right now pic.twitter.com/AWr7u0BqXF

— Matthew Price (@BBCMatthewPrice) December 28, 2015
It is estimated that the costs of the flooding as a result of storms Eva, Desmond and Frank is close to €6.8bn with more heavy rains forecast for New Years Day.

One of my pictures from today of a @RoyalAirForce Chinook passing @York_Minster while assisting with #floodspic.twitter.com/Mq5lCXQOH9

— PAUL KINGSTON (@PaulKingstonNNP) December 28, 2015