Nigeria's president offers to negotiate schoolgirls' release
Comments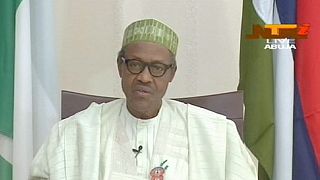 Nigeria's new president says the government is prepared to negotiate with the Islamist militant group Boko Haram "without preconditions" to secure the release of around 200 kidnapped schoolgirls, if credible leaders are identified.
Muhammadu Buhari said there was no proof the girls, taken in April 2014, were still alive,and that the government had no idea where they were.
Elected on an anti-corruption platform, Buhari also used his end-of-year address to give details and name names in an ongoing investigation into corruption in the oil industry.