New year, new border for Belgium and the Netherlands
Comments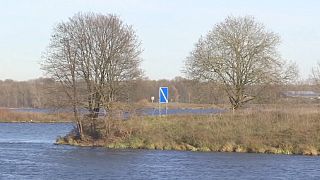 With the new year comes new territory for Belgium and the Netherlands. They have agreed on a friendly exchange of land, which will slightly alter the border dividing the two countries.
The swap will see the Belgian town of Visé lose a piece of land jutting into the Meuse river.
In exchange, Belgium is being given the land around a lock in Eijsden, which was built to promote the flow of traffic between the two countries.
Over the years, the river has turned the plot being given to the Netherlands into a peninsula, only accessible by land from that country.
Rumours are rife that the land is being used for drug deals and illicit sexual activity.
Jean-François Duchesne, the Police Commissioner of the Lower Meuse region added;
"One day passersby found a headless body and so obviously they alerted the Dutch authorities, who told them it was actually on Belgian territory. So, we had to go over there by boat with all that was needed: the prosecutor; the coroner; forensics experts. We had to go back and forth on the boat, which was really not very practical."
The land swap has been welcomed on both sides of the frontier. Visé's mayor was quoted as saying it should have happened "a long time ago."
It should be approved by the two countries' parliaments in 2016. This will be almost 200 years after the current border posts were established, in 1843.