North Pole hots up as El Nino shakes up world weather
Comments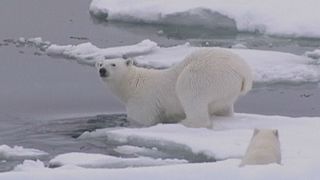 It seems things are hotting up in the North Pole. As El Nino shakes up weather around the world, forecasters predicted temperatures of up to minus two degrees Celsius on Wednesday.
The average for this time of year is normally around minus 30 Celsius.
Low pressure sends warm air all the way to the North, explained Jesper Theilgaard, a Danish meteorologist.
"Then it can't really go to places other than Svalbard," he added, "then it turns north of Greenland and to the North Pole."
It is unclear how warm it has actually got in the North Pole on Wednesday, as there is no weather equipment there that can give precise temperatures.
The North Pole Environmental Observatory provides some observational data.
There is a concern that warming weather could have a big impact on ice formation.
"When it's warmer on the surface, and water is produced, and then freezes again, all of the layer is heated up," explained Prof. Dorthe Dahl-Jensen, from the Niels Bohr Institute in Denmark.
"It prevents the layer from being so thick during the winter, even though it gets cold again. This way it heats up even more, there will be less ice the following year."
Higher than normal temperatures have been reported across Europe and the US.
El Nino is a natural phenomenon and normally happens every two to seven years.