Americas: thousands evacuated, as El Nino triggers worst flooding in decades
Comments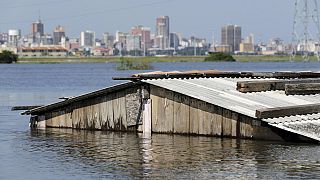 Flooding misery continues in the US, with hundreds forced from their homes in Missouri because of rising waters in rain-swollen rivers.
Scores of buildings have been engulfed in the state and sections of a major highway have been closed.
It is the worst flooding Missouri has seen in two decades. At least 13 people have died since the weekend.
Meanwhile, in Paraquay, thousands have abandoned their homes, as the country is drenched with some of the worst summer rains it has ever seen.
A state of emergency has been declared in some areas.
In Puerto Falcon, along the border with northern Argentina, flooding victims are calling for aid.
Heavy rains and bulging rivers have also unleashed flooding here in Uruguay.
Thousands have been evacuated in Brazil and Argentina too.
Meteorologists are putting the heavy rains down to the El Nino weather phenomenon and it seems there is no respite yet in some areas.