Motorbike bomber kills at least 23 people in Mardan, Pakistan
Comments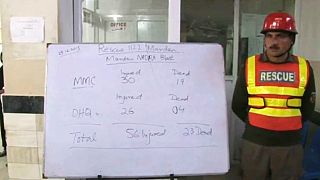 A suicide bomber riding a motorbike laden with explosives blew himself up outside a government office in Pakistan killing at least 23 people and wounding about 70 others.
Jamaat ur Ahrar, a breakaway Taliban group, claimed responsibility for the motorbike attack which happened in the northwestern city of Mardan on Tuesday as people queued outside an office issuing identity cards to Pakistanis.
A spokesman said the building targeted was part what he called the "heathen Pakistan state" and therefore a legitimate target.
Jamaat ur Ahrar wants to overthrow the government and establish hardline Islamic rule.
A spokesman for the emergency services said at least 25 of the injured were in critical condition.
The Bacha Khan medical facility received 34 wounded people and 16 bodies, according to Reuters news agency.
Suicide blast in #Pakistan kills 23, injures over 40 https://t.co/goz6MkYYUV#PakistanBombingpic.twitter.com/6hNf0nceG3

— Sputnik (@SputnikInt) December 29, 2015