Gravity: Theaux claims Santa Caterina downhill
Comments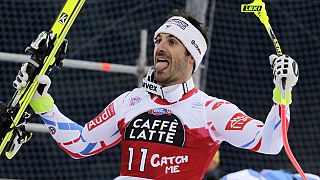 After Val Gardena, Alta Badia and Madonna di Campiglio, the World Cup tour of Italy continued with a stage in Santa Caterina.
French skiers enjoyed this downhill with Adrien Theaux claiming victory and David Poisson taking third.
Theaux was all smiles after topping a downhill podium for a third time in his career and for a first time since March 2013.
The fourth downhill of the season on the 3.2km-long and very steep Deborah Compagnoni course lived up to its challenging reputation.
With many others struggling on the bumpy and icy course, Theaux appeared unfazed and managed to tame the piste in one minute and 47.29 seconds.
He enjoyed a large 1.04 second margin over his closest challenger Hannes Reichelt, who was hunting his first win since Kvitfjell, Norway in March 2015.
Reichelt from Austria put in strong performances on the two training days and confirmed those displays with second place on this difficult slope.
Theaux's compatriot David Poisson rounded out the podium in third, 1.15 seconds behind.
It turned out to be a very entertaining race for the fans, although Christof Innerhofer would probably disagree.
The Italian grabbed most of the attention on the day when halfway down the course he hit a gate which then decided to hitch a lift down the mountain with the 31 year old who, against all the odds, crossed over in fourth place.
Innerhofer and his unwanted companion missed the podium by just seven hundredths of a second.
Norway's Aksel Lund Svindal has won five races this season – three of which have come in December.
But he was off the mark on Tuesday and crossed over in seventh.
The result, however, did allow the two-time World Cup champion to regain top spot in the overall season standings, 15 points clear of Austrian Marcel Hirscher who does not compete in the downhill.
Preparing for a season without Olympics and Worlds
The race for the crystal globe is even more important this winter due to no world championships or Winter Olympic Games taking place. Does this change the way competitors prepare for the season and its many races? We put this question to our expert Franck Piccard.
Piccard: ''The schedule is almost the same, but there's a difference; there's a little less pressure. Skiers are calmer in seasons like this without major competitions, you can prepare for the season in a more tranquil fashion.
''You prepare for each stage at a time – one after the other. It allows for a cleaner, easy-going calendar, without the need to prepare for one particular event. You must be ready for the whole season.
''If it's possible, your form needs to peak in the middle of the season with an increase in performance towards December in order to be strong for February and then scale it down in March.
''That is more or less the ideal season. All of this means you can have a consistent training routine and respect the calendar in the best possible way.''
Schild
On Tuesday, Swedish skier Frida Hansdotter won the slalom in Lienz, Austria. She beat Swiss Wendy Holdener by seven hundredths of a second and Slovak Petra Vlhova by 0,43 seconds. It was her first victory in slalom this winter and the third career. She's still far, very far, off the record of Marlies Schild though.
When the slalom of Courchevel on 17 December, 2013 came around it had been almost two years since Marlies Schild had enjoyed victory on the World CUp circuit.
Having undergone surgery on her right knee the previous winter, she bounced back in style at the French resort to celebrate her 34th victory in the discipline, a result that moved her level with record holder Swiss Vreni Schneider.
Just 12 days later she notched up a record-breaking 35th slalom win on home snow in Lienz before retiring to have a family with none other than former men's world cup champion Benni Raich.
She hung up her skies having earned four crystal globes as the season's best slalom skier, a world slalom title and four Olympic medals.
Snowtime
The festive period always brings with it presents. We have one for you – extracts from 2015's most viewed ski video on the internet. It was seen a whopping 18 million times and was directed by former world freeride champion Candide Thovex.
(see clip above)