Turkish exporters face bleak 2016 as Russian sanctions approach
Comments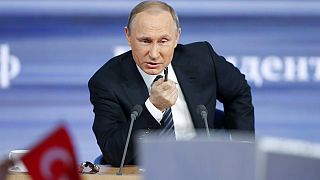 With Russian sanctions against Turkey coming into force now just days away on January 1
in the bazaar the cost of a dispute with Moscow has been counted up, and it is a cost Turkey can ill afford.
On a trip to Belgrade Prime Minister Ahmet Davutoglu was keen to find alternative markets for Turkish products, but also appeared keen to begin the long road back to normal relations with the Russians. For the moment Russia is refusing to talk until, at the very least, apologies are offered for its dead pilot.
"We had good relations with Russia until this event, and until Russia intervened in Syria. Relations were improved during AKP's term in power. We can only hope that good relations will be established again," he said.
Moscow has attacked the current Turkish government as being "accomplices of terrorists", helping ISIL and profiting from its oil trading. And it is just getting started with sanctions.
"We believe there is a need for an appropriate response to unfriendly actions, and we began giving such a response several days ago. There will be further actions, which will be announced, the prime minister has already spoken about them," said Russian Deputy Prime Minister Arkady Dvorkovich.
Shoppers in Moscow might be the first to feel the effects. Much of the city's fruit and vegetables comes from Turkey. Tomatoes have long since become rare along with Western items following Russia's intervention in Ukraine and the following sanctions. Will basics be next?