'Total devastation' after tornadoes tear through Texas
Comments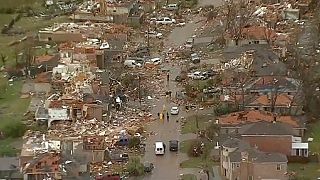 Severe storms in the US have left more than 40 dead, and a trail of destruction in their wake.
At least 11 are reported dead in Dallas and eight in the city of Garland.
"It is total devastation," said Lieutenant Pedro Barinea, a spokesman for Garland Police.
"It is a very difficult time to be struck by such a horrible storm, the day after Christmas."
In Texas, Governor Greg Abbott said his office had declared Dallas County and three nearby counties disaster areas.
Extreme weather has been battering America's South, Southwest and Midwest over the Christmas holiday.
As well as flattened buildings, there is also flooding, power cuts and massive disruption to public transport.
A state of emergency has been declared in the states of Missouri and New Mexico.
Powerful tornadoes are a staple of spring and summer in central states, but occur less frequently in winter, according to US weather data.
And there is no respite in some areas. In Amarillo, people have been facing blizzard conditions. Around three inches of snow has fallen and strong winds are causing drifts of up to four feet high.