Comanche wins 71st edition of Sydney-Hobbart Yacht Race
Comments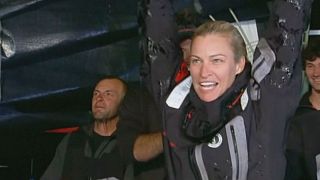 American yacht Comanche was joined on the River Derwent by a flotilla of well wishers as it crossed the finish line first to win the 71st Rolex Sydney Hobart Yacht Race.
After a gruelling trip across the Tasman Sea, Comanche clocked a winning time of two days, 9hours and 58min 30sec.
Last year the team finished second behind defending champions Wild Oats and it was almost a no-show on the finish line this time for the US syndicate, which came close to retirement on Saturday night after sufferering damage to its daggerboard.
On board Comanche was former model Kristy Hinze-Clark who made history as the first female boat owner to win this prestigous yacht race.