Messi scoops Player of the Year Award in Dubai
Comments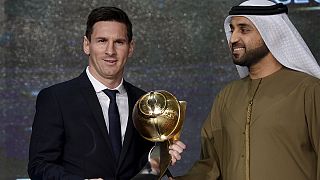 At the Global Soccer Awards in Dubai which are held as part of the International Sports Conference Lionel Messi walked away with the Player of the Year award to add to his impressive list of trophies.
The Barcelona forward and Argentine captain is a four-times world player of the year and has been shortlisted for the 2015 Ballon d'Or in January. The 28-year-old was an inspiration in his team last season despite losing two months to injury.
"It's always beautiful to receive recognition. Even though the importance is in the team as a whole it is also nice to receive an individual prize and so I am happy, appreciative, and very content to be here," he said on accepting the trophy.
Barca scooped the club prize. The Catalan outfit has just enjoyed one of the most successful seasons in its history picking up five trophies, La Liga, the Copa del Rey, the UEFA Champions League, The European Super Cup and the Club World Cup.
But Luis Enrique was denied the manager's award with Belgium national coach Marc Wilmots stealing the recognition.