Favourites retire from Sydney to Hobart race
Comments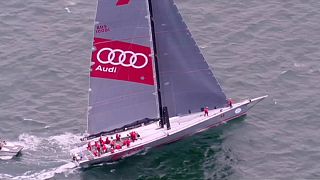 There were blustery conditions and a strong north easterly wind for the start of the annual Sydney to Hobart race – the wind and conditions almost perfect for the favourites to push ahead out of Sydney Harbour.
The US supermaxi Comanche took an early lead as it did at the start last year in what is one of the world's most gruelling yacht races.
It was not to last for the wind turned and strong southerly winds gusting up to 40 knots began to play havoc with the favourites.
Conditions led to 10 retirements from the race including the record-holding eight times winner Wild Oats.
It's understood the crew are heading back to Sydney harbour after reporting a torn mainsail.
The crews of all the yachts which have retired are also returning to harbour and are reported to be safe.
Comanche has a broken rudder and while it initially retired it's believed the crew are trying to make running repairs and to remain in the race.
Ninety eight yachts are still at sea with the leaders of the 630 nautical mile race across the Tasman Sea and treacherous Southern Ocean expected to reach Hobart on Monday.