Thousands evacuated across South America as heavy rains spread
Comments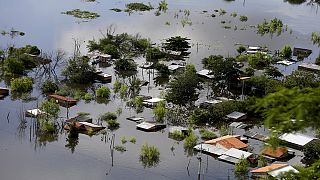 Tens of thousands of people have been evacuated from their homes following heavy rains across South America.
In Paraguay, several rivers have burst their banks flooding large swathes of the city of Concordia in Entre Rios province.
The Uruguay, Paraguay and Parana rivers are among those that burst their banks after torrential rains. In some areas, water levels are around 7.5 meters; the second highest in history.
Many people were left stranded as the water level rose sharply and swiftly. Authorities say their top priorities are to get the situation under control and assist evacuees.
With so many people forced to fend for themselves in makeshift shelters there is also a potential health crisis due to the increase of mosquito-transmitted diseases caused by flood waters.