10 dead after US storms trigger tornadoes
Comments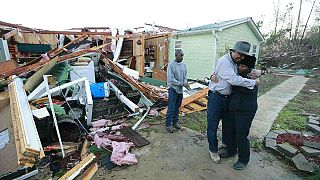 Severe storms tearing across the United States have left at least 10 people dead. The weather system brought high winds and triggered more than 20 tornadoes.
One large tornado tore a 160 km path through northern Mississippi, where governor Phil Bryant has declared a state of emergency in seven of the state's counties.
In Michigan and Wisconsin, about 15,000 homes and businesses were without electricity after winds downed power lines. The National Weather Serviced issued a gale force warning for Lake Michigan, where waves could reach over 4.5 metres.
Emergency crews in Mississippi, Alabama and Tennessee are still searching for several missing people.