California gas leak sparks protests as concerns mount
Comments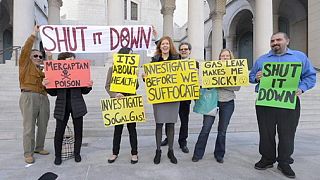 Methane gas billowing into the sky from the hills above Los Angeles has been captured by an infrared camera to record images which are invisible to the naked eye.
The runaway leak began two months ago and has since poured 150 million pounds of methane into the atmosphere. There is no immediate end in sight raising concerns from experts and state officials about ecological damage.
The leak from the Aliso Canyon area has forced evacuations while officials say pollutants could have a long-term effect beyond the region.
It is pouring out from a massive underground storage facility and has sparked protests.
Methane, as well as being an explosive hazard, is also a powerful greenhouse gas more potent than carbon dioxide in trapping heat in the lower atmosphere.
"Distressing to watch," is how one official has reacted while the gas company involved has pledged in statements "to execute all possible efforts" to plug the leak.