Istanbul: one person dead in Sabiha Gokcen airport blast
Comments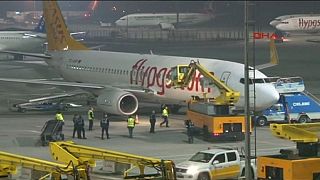 A blast at Sabiha Gokcen — Istanbul's second-largest airport — has killed one person and injured another.
Both victims were female cleaners, who were inside one of the planes when the explosion occurred.
Turkish authorities are investigating the cause of the blast, which took place at 2.05 am local time on Wednesday (December 23).
Local media report three planes were damaged in the incident. No passengers were in the area.
Air traffic is continuing to operate normally, although the airport has been placed under heightened security.
Armed police could be seen guarding entrances and searching vehicles, while a helicopter circled overhead.
According to the airport's website, over 26 million passengers have used Sabiha Gokcen so far in 2015. This is less than half the number at the city's main hub in the west of Istanbul.