Fatal attack in Jerusalem at the Jaffa Gate
Comments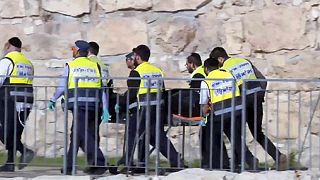 There was a fatal attack in Jerusalem when two Palestinians went on a stabbing spree outside the Jaffa gate, one of the main entrances to the Old City.
One Israeli died and another injured in the assault by the two men who were then shot dead by security forces. There are reports a second Israeli was killed, caught in police gunfire aimed at the attackers.
A video which appeared on social media appeared to show a man beating one of the shot assailants with a pole. A police spokesman told a local media outlet the video is being investigated.
An initial statement subsequently said the the stabber was still trying to attack people even after being shot and the man who was beating him was trying to get the knife out of his hand.
The stabbings are the latest in an upsurge of violence in the last three months. Twenty Israelis and one US citizen have been killed and at least 120 Palestinians in that time.
The increase in attacks has been fuelled by a number of different factors including Islamist militant calls for the destruction of Israel.