SpaceX jubilant at success of re-usable rocket
Comments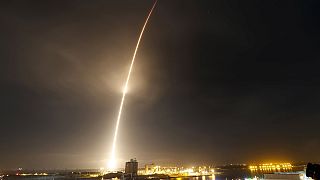 A rocket took off from Cape Canaveral in Florida on Monday and landed again ten minutes later – the first time such a feat has been achieved.
The 23-story high Falcon 9, made by US company SpaceX, deployed 11 satellites into orbit before the re-usable main-stage booster turned round and landed around 9km from the original launch site.
The landing marks a huge accomplishment for the company after the explosion of a Falcon 9 rocket in June as it carried the Dragon capsule to the International Space Station.
SpaceX employees were jubilant watching the booster return to earth.
There and back again pic.twitter.com/Ll7wg2hL1G

— Elon Musk (@elonmusk) December 22, 2015
It's a major boost for the privately owned company founded by high-tech entrepreneur Elon Musk
He says that rockets that can return will slash operational costs in the highly competitive private space launch industry.
In a celebratory tweet Musk wrote: "welcome back baby."
11 satellites deployed to target orbit and Falcon has landed back at Cape Canaveral. Headed to LZ-1. Welcome back, baby!

— Elon Musk (@elonmusk) December 22, 2015