After the elections Spain gears up for El Gordo
Comments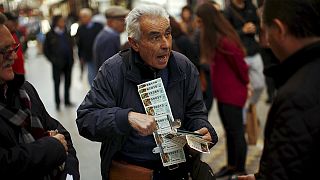 Organisers in Madrid on Monday night were putting the final touches to the preparations for the world's richest lottery.
Spain's 'El Gordo' which means the fat one, has a prize pool in excess of two billion euros, although the biggest single prize this year is four million.
The draw for El Gordo is always on the 22nd of December and is a long-standing Christmas tradition in Spain.
Unlike the draw for other lotteries, which is usually a fast and business-like affair, the draw for the El Gordo is an elaborate event that takes hours to complete and is more like a raffle.
The balls are drawn from two machines knowns as 'bombos'. They contain hundreds of balls each with a pre-determined number inscribed on it. If it coincides with your ticket – you have won.
Tickets are expensive at 200 euros and are usually bought collectively by a family or group of friends, or you can buy a part share in a ticket.