Rallies across Poland as thousands accuse the new government of a 'creeping' dictatorship
Comments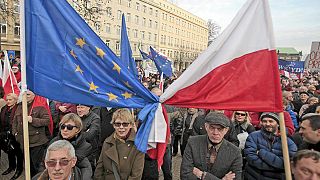 For the second consecutive week thousands of demonstrators have taken to the streets of Poland's cities to protest against the new conservative government.
Since the Law and Justice party won the elections in October critics have accused the new regime of trying neuter the Constitutional Court by replacing judges.
"The attack on the Constitutional Court could lead to a situation where there is no protection of democracy," said Mateusz Kijowski, one of the organisers. "Poland wil be in danger of dictatorship by the majority, which is the simplest way to ordinary dictatorship."
The Law and Justice party controls the houses of parliament and the presidency, leaving the court as the only effective check on its power say critics.
Over the past few weeks government has moved to stack the court with its supporters and now plans legislation that critics say would essentially make it unable to work.
Demonstrations, organised by a group called the Committee for the Defence of Democracy, took place in 20 cities.
Poland protests: Tens of thousands march again: Tens of thousands of people have protested against Poland's ne… https://t.co/u7yRhHZUAs

— Poland News Links (@dlpolandnews) December 19, 2015