Italy defies the EU and halts a cull of olive trees
Comments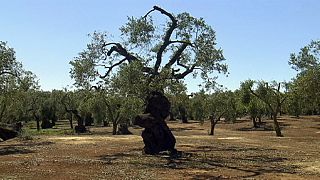 Italian authorities have stopped a cull of olive trees in the south of the country that was ordered by the EU earlier this year over fears of a bacterial infection.
Thousands of trees have been culled that were showing signs of dessication, or drying up, but prosecutors in Italy say there is no clear link between the bacteria, Xylella fastidiosa, and the dessication symptoms.
Ten people in Puglia have been placed under investigation over their handling of the outbreak.
They're being accused of spreading plant disease and destroying natural beauty.
But the European Commission says the bacteria is the one of the most serious diseases threatening plant life world wide, and that the only sure way to halt it is to destroy plants to make a Xylella-free buffer zone.
Italy is the second-largest producer of olive oil in the European Union after Spain.
In July the bacteria was found in southern Corsica, prompting emergency measures there.