Hiddink takes charge of Chelsea
Comments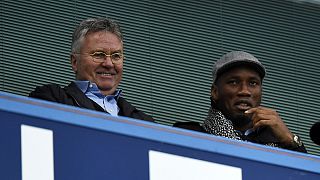 It's been confirmed Gus Hiddink will take charge of Premier League champions Chelsea until the end of the season.
The Dutchman had been touted to take on the role on an interim basis after the sacking of Jose Mourinho.
The 69-year-old had a caretaker spell in charge at Stamford Bridge in 2009 when the Brazilian Luiz Felipe Scolari was fired. He subsequently guided the London outfit to the semi-finals of the Champions League and an FA Cup Final victory.
"I am excited to return to Stamford Bridge. Chelsea is one of the biggest clubs in the world but it is not where it should be at the moment. However, I am sure we can all turn this season around," he said in a club statement.
He joins Chelsea after their 3-1 victory against Sunderland at the Bridge. The club remains in the bottom half of the league four points above the relegation zone.