Aksel Lund Svindal dominant in Val Gardena
Comments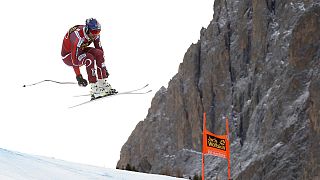 He did it again..for the fifth time. Aksel Lund Svindal clinched the downhill crown in Val Gardena to add to his four other victories in this season's FIS World Cup Tour. It was his second win in as many days as he took Friday's super-G on the Italian slopes.
He had been fastest in both training runs so it was no surprise that he was able to add to his win in the downhills in Lake Louise and Beaver Creek.
He looks to be making the speed event his own and on the Val Gardena slopes he had a comfortable margin of victory winning by 0.43 seconds from Guillermo Fayed.
This was the Frenchman's second podium of the season. It means he is second in the standings for the downhill with 190 points. But he is well adrift of Svindal whose first place took him to the 300 point mark setting a blistering pace in the standings.
In fact the podium at Val Gardena was the same 1-2-3 as the current points tally with Khetil Jansrud coming in third. It was the Norwegian's third time on the podium this season and he crossed the line just 0.03 seconds behind Fayed.
Jansrud has now 169 points and his being hotly pursued Italy's Peter Fill who is on 162.5.