Surfing: World number Fanning moves closer to fourth title despite brother's death
Comments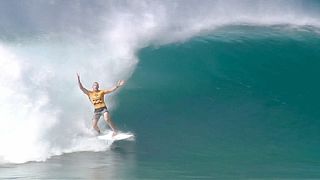 The Worlds greatest surfers gathered in Hawaii for the season-ending Billabong Pipe Masters.
Kelly Slater, Mick Fanning, Gabriel Medina Adriano de Souza and John John Florence were all present as the surfing season reaches its climax.
Australian Fanning, the world number one, reached the quarter finals of the event to take a step closer to sealing his fourth World title.
However it was an emotional day for the 34 year old who found out his older brother had died during the night.
Nonetheless he battled on to earn his place in the last eight.
As did de Brazilian De Souza and Medina who are the only other surfers mathmatically able to challenge Fanning for the overall crown.
It was a marathon day of stunning surfing but also terrifying wipe outs – Bede Durbidge coming off the worst.
The Australian broke his pelvis after being pitched from the top the first wave of his third round heat.