New security measures on French Thalys cross-border trains
Comments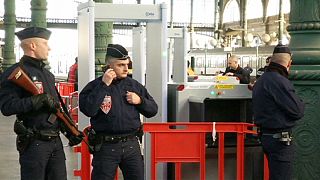 France has unveiled its planned new security measures on Thalys cross-border trains. They link France with Brussels, Amsterdam and Cologne in Germany.
The measures come into force after a man with a Kalashnikov tried to open fire on passengers on a train travelling from Paris to Amsterdam in August.
Travelers will now go through airport-style metal detectors and X-ray machines while security on the trains has also been stepped up.
"These measures, which I have been asking for for several months, include random controls inside trains, ticket controls before getting on the train, random luggage searches, which are necessary and the deployment of special patrols with dogs, because that is what reassures most," Segolene Royal French environment and transport minister explained to reporters at the Gare du Nord in Paris where the new measures were unveiled.
Belgian, Dutch and German authorities have, as yet no plans to follow France's example but Royal said they "have to" install such systems.
She also sought to reassure travellers that the new measures would not cause delays and added the system could be rolled out to the high speed TGV services.